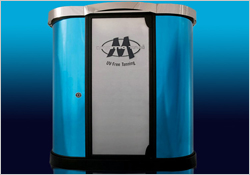 How does Mystic Tan® deliver the perfect tan?
The Mystic Tan® booth utilizes a spray-on process designed to deliver a customized sunless tanning application to each individual based on their body size, skin type and desired color. For each individual profile, three tanning level options are available to produce optimal results.
Inside the Mystic Tan®, room the tanner simply disrobes and enters the booth. With the push of a button, the session begins with a fine mist of aloe vera enriched sunless-tanning solution being sprayed through our patented MagneTan® nozzles.
The MagneTan® technology ensures uniform coverage over the entire body. Our proprietary sunless tanning solution instantly transforms into a quick, natural-looking tan that continues to darken throughout the day. A perfectly uniform, natural-looking tan in less than 60 seconds!
Skin Preparation
The condition of your skin plays a key role in the application process and tanning results.
Step 1: Exfoliate & moistureize your skin before your session.
Step 2: Moistureize your skin (with a water based only product) after every bath or shower to increase the life of your tan.
Step 3: Repeating step 1 before every session will ensure a flawless looking tan.